---
Unlock your inner potential and be a beacon for influential change
• Become the confident and inspirational leader you strive to be
• Connect and collaborate with like-minded leaders to excel your industry network
• Understand the impact of technology on the industries future
• Learn impactful skills to lead high performing and authentic teams
---
Sally Stannard

A/Director General

Department of Transport and Main Roads

Kate Drews

A/Chief Executive Officer, ANZ

SMEC Australia Pty Ltd

Melanie Mackie

Head of Operations Standards

Australian Rail Track Corporation

Annabel Castledine

General Manager, Commercial & Performance, Sydney Light Rail

Transdev

Georgina North

Head of Technology & Innovation

Laing O'Rourke

Saskia Groen-In't-Woud

Chief Strategy & Sustainability Officer

Pacific National

Maddi Wu

Chief Remote Pilot, Drones

Sydney Trains

Janet Jackson

Head of Health, Safety & Environment

UGL Regional Linx

Joana Feiteira

General Manager Customer Experience & Communications, Sydney Ferries

Transdev

Kylie Pearse

HSEQ Manager, Rail Services NSW/ACT

John Holland

Jane Gillespie

Rail Team Lead, VIC

ARUP

Frances Badelow

General Manager, Australia

Mott MacDonald

Lyndal Denny

Chief Executive Officer

Women in Trucking Australia

Jacquelene Brotherton

Director

Transport Women Australia

Tanya McDonald

Executive Manager, Corporate Affairs & Strategy

Port of Newcastle

Nicole Waterman

Technical Leader

Laing O'Rourke

Lauren Kress

Career & Burnout Coach

Refuel Your Fire

Amy Stewart

Leadership & Organisational Development Specialist

Amy Stewart Learning and Development

Chloe Blake

Leadership Development Coach, Consultant & Workshop Facilitator

Chloe Blake Coaching & Consulting

Leanne Elich

Chief Executive Officer

L.E.C. Leanne Elich Consulting
---
This Hybrid Summit offers a unique opportunity for attendees to participate in a dynamic and inclusive event experience, regardless of their physical location. Whether you choose to join us in-person or connect virtually from anywhere in the world, this event promises an immersive and engaging experience for all!
Face-to-Face Attendance
For those craving the energy and vibrancy of a live event, engage in face-to-face discussions, meet industry leaders, and forge new connections with like-minded professionals. Immerse yourself in this bespoke event experience designed to inspire and invigorate.
Online Attendance
Can't make it to the venue? No problem! With just a few clicks, you can join the event from the comfort of your home or office. Benefit from live-streamed sessions, interactive workshops, and real-time Q&A sessions with speakers. Plus, connect with fellow virtual attendees through dedicated networking spaces and chat.
Select the attendance option that suits you best and reserve your seat or virtual access today. Limited spots available, so don't miss out on this exceptional opportunity!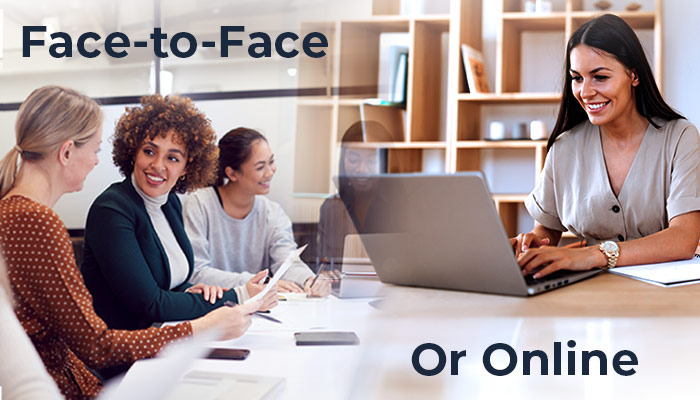 ---
Workshop
Building authentic and influential relationships
- Understand different communication preferences, leadership and decision-making styles
- Create strong professional relationships by fostering trust
- Manage expectations and managing up
Effective communication channels and leadership styles
- Adapt your communication and work style to improve influence and impact
- Remain authentic when faced with difficult decisions
- How to get buy-in from your peers, your management, and your executive
Proactive self-management to position yourself for success
- Proactively tackle challenging situations and changing environments 
- Navigate organisational politics and tackle complex conversations
- Develop emotional resilience to thrive during conflict and change
Understand and build your leadership brand
- Explore how your peers, your management, and your executive see you as a leader
- Identify your core values, leadership intentions, and align your actions
- Use your leadership brand to build your influence and reach
Chloe Blake Leadership Development Coach, Consultant & Workshop Facilitator Chloe Blake Coaching & Consulting
Join Liquid Learning for this kick-off session as we prepare for two days of incredible speakers, senior leaders, expert deep-dives and unmissable panel discussions!
Case Study
Transport development is of paramount importance to the public sector. Accessible transport promotes social inclusion and reduces inequality, benefiting everyone in the community. In this session, Sally shares her passion for public transport and developing sustainable communities.
- Preparing for the 2032 Olympic and Paralympic Games 
- Customer focused transportation development
- Shaping public transport in the future
Sally Stannard A/Director General Department of Transport and Main Roads
Case Study
 Have you ever reflected on the mentor you need? In this session Maddi will share her unique journey, and how mentors have been instrumental in guiding her to her current position. Maddi emphasises that one mentor often cannot fulfil all your needs; instead, mentors can be categorised into those who guide you professionally, personally, and in your overall development as an individual. This session will provide practical insights into the process of finding and engaging mentors, as a young leader.
- No one mentor can help you with everything
-Identify what a mentor means to you
- Understand the two-way street of mentoring
Maddi Wu Chief Remote Pilot, Drones Sydney Trains
Mix and mingle with your fellow leaders over a cup of coffee and light refreshments.
Expert Commentary
The surge in remote work and the adoption of flexible work arrangements has been a significant success for many individuals. However, this newfound flexibility has also led to heightened expectations of being accessible for work around the clock. The resulting physical, mental, and emotional strain is driving people dangerously close to burnout. It is imperative that we have the skills to establish boundaries and prioritise our overall well-being. In this session, Lauren shares valuable insights to help you redirect your focus towards well-being and setting healthy limits.
- Discover your ideal equilibrium between work and well-being
- Learn how to implement healthy boundaries
- Contemplate where your breaking point for burnout is situated
Lauren Kress Career & Burnout Coach Refuel Your Fire
Case Study
Embracing change can pose challenges for leaders and team members alike, but a positive influence in leadership can make the transformation a more favourable journey. In this session, Kate reflects on more than 25 years' industry experience, and shares insights on steering transformative change, leading projects from concept to execution, while incorporating core values in her decision making process.
- Maintaining authenticity in leadership during change
- Leading people through uncertainty
- Building capable and engaged teams
Kate Drews A/Chief Executive Officer, ANZ SMEC Australia Pty Ltd
Enjoy a midday lunch break. A time to refresh, refuel, and prepare for a full afternoon of immersive learning and inspiration.
Panel
Diversity should not be treated as a mere formality or something to be disregarded after initial efforts. While there has been notable progress in supporting women in the workplace, it is essential to maintain the current momentum and recognise the ground we have already covered. Even though there have been improvements in equity, achieving gender balance in senior leadership positions is challenging. In this inspiring panel discussion, we will explore practical approaches to consistently promote the advancement of women within your sphere.
- Embrace your role as a catalyst for positive change, not as a contributor to the problem
- Cultivate an environment that empowers your team to thrive and excel
- Embrace equity as a driving force for achieving shared success
Janet Jackson Head of Health, Safety & Environment UGL Regional Linx

Kylie Pearse HSEQ Manager, Rail Services NSW/ACT John Holland

Jane Gillespie Rail Team Lead, VIC ARUP

Nicole Waterman Technical Leader Laing O'Rourke
Case Study
With over 50 years of industry experience, Jacquelene has achieved her dream career. She's held impressive leadership roles, hosted 'Driving the Difference,' and chaired Transport for Women Australia. Jacquelene has long advocated for women in non-traditional careers in transport and logistics. Her story shows how passion and determination can take you far in your career. In this session,  Jacqueline reflecting on the past to set the tone for the future, pushing the limits and showing you can lead your own way!
- Lay the foundation for future generations to follow
- Evolve your talent acquisition strategy
- Create environment that promotes both inclusivity and creativity.
Jacquelene Brotherton Director Transport Women Australia
A quick break to refresh and continue building your network with fellow leaders. Enjoy a light refreshment before finishing your conference experience.
Expert Commentary
Take the time to reflect on your learnings from theday and how you can achieve your personal goals!
Leanne Elich Chief Executive Officer L.E.C. Leanne Elich Consulting
Leanne Elich Chief Executive Officer L.E.C. Leanne Elich Consulting
Join us for our end of day one networking. Enjoy canapés and drinks whilst getting to know your peers further, build ongoing relationships, and share your highlights of the day.
Welcome back for Day Two - there's a lot to digest from our amazing speakers and action modules so far!
Recap the key learnings and takeaways from Day One, and prep an action plan to maximise your event experience over our jam-packed second day!
Case Study
As a leader in this evolving technological landscape, how can you ensure that you remain current and adapt to the ever-changing world we live in? Where can technology bring the transport infrastructure industry by 2050? The rapid technological advancements evident in the world of transportation serve as a clear indicator of the future of this industry. In this session, Georgina who started her career as a chemical engineer and now head of Technology & innovation, shares her passion for operational excellence in progression to net zero.
- Prioritise continuous learning and skill development
- Embrace tech advancements
- Stay ahead of trends and for the industries future
Georgina North Head of Technology & Innovation Laing O'Rourke
Case Study
Change can be difficult for both leaders and team members, but leading with a progressive mindset can help to ensure the transformation is a positive experience. The key to success during change is having a curious outlook and utilising critical thinking to solve new age problems. In this session Joana, shares her experience leading positive change, driving new initiatives while embedding values and ensuring people stay at the focus.
- Focus on adaptability and engagement
- Challenge the status quo
- Creating tangible difference and action
Joana Feiteira General Manager Customer Experience & Communications, Sydney Ferries Transdev
Mix and mingle with your fellow leaders over a cup of coffee and light refreshments.
Case Study
Being the representation you wished to see means becoming the role model and advocate you lacked when you entered your industry as a woman. It's about embodying the qualities and values you yearned to find in a mentor or a senior colleague—inspiration, support, and guidance. In this session, Lyndal shares her incredible career, and insight on how we can all continue to advance women in the workplace.
- Stand up for your colleagues and help women succeed at work
- See how important it is to have female role models and mentors
- Support each other in speaking up and sharing your ideas
Lyndal Denny Chief Executive Officer Women in Trucking Australia
Expert Commentary
As leaders, we are constantly seeking opportunities to enhance our skills, gain a deeper understanding of our team, and boost their engagement. Leaders who grasp the fundamentals of behavioral science can harness this knowledge to establish workplaces that promote employee success, productivity, and contentment. In this informative session, Leanne Elich enlightens us on the key biases within behavioral science that can be applied to elevate your leadership abilities.
- Uncover tools and strategies to overcome barriers through the lens of behavioural science
- Cultivate routines that prioritize trust and psychological safety as fundamental elements of effective leadership
- Cultivate routines that prioritise trust and psychological safety
Leanne Elich Chief Executive Officer L.E.C. Leanne Elich Consulting
Enjoy a midday lunch break. A time to refresh, refuel, and prepare for a full afternoon of immersive learning and inspiration.
Panel
Who doesn't dream of making it to the top? Senior and executive-level leadership roles are far and few between, and with a lot of people gunning for those positions and only a few spots up for grabs, it's crucial to understand and work on the skills you need to level up. In this interactive panel, we're going to dive into real-life career stories of reaching senior executive status, break down what it really takes to move up, and give you some practical tips and tools to boost your career.
- Appreciating the significance of your unique path
- Discover the importance of self-development and personal growth
- Develop strategies for navigating your path to progression 
Melanie Mackie Head of Operations Standards Australian Rail Track Corporation

Annabel Castledine General Manager, Commercial & Performance, Sydney Light Rail Transdev

Saskia Groen-In't-Woud Chief Strategy & Sustainability Officer Pacific National

Frances Badelow General Manager, Australia Mott MacDonald
Case Study
Understanding your strengths in the workplace will enable you to advance your career. In this session, Tanya will guide you through recognising and embracing your strengths, and how your distinctive attributes are where your greatest strengths reside. Shedding light on the significance of transferable skills, and emphasising the courage needed to seize career opportunities.
- Discovering your unique strengths
- Get to know how you naturally react and behave
- Trust your gut feelings and become a strength based leader
Tanya McDonald Executive Manager, Corporate Affairs & Strategy Port of Newcastle
A quick break to refresh and continue building your network with fellow leaders. Enjoy a light refreshment before finishing your conference experience.
Roundtable
We wrap up our inspirational and jam packed two days with this interactive closing roundtable. This is your chance to table any topic or trend for a final group discussion. Reflecting on the inspiring stories that have been shared, discussing your key learnings with your peers, and creating your action plan for moving forward.
- Reflect on your key learnings from the Summit
- Identify opportunities for career progression and growth
- Create an action plan for your leadership journey
Leanne Elich Chief Executive Officer L.E.C. Leanne Elich Consulting
Workshop
Develop self-awareness and authenticity
- Identify and evaluate your key strengths as a leader
- Explore the role authenticity plays in effectively leading a team
- Recognise the impact your leadership behaviour has on others 
Embrace your leadership identity
- Identify how best to utilise your optimal leadership style within the context of your organisation
- Advocate for yourself and develop your leadership identity
- Cultivate a high performing mindset
The importance of resilience and confidence for leaders
- Build resilience to thrive under pressure
- Dealing with disappointment and setbacks throughout your career
- Identify stress triggers and how to avoid them
High-level communication, influencing skills
- Manage emotions for positive and assertive communication and relationships
- Develop influencing techniques and conversational intelligence
- Execute difficult conversations with confidence
Amy Stewart Leadership & Organisational Development Specialist Amy Stewart Learning and Development
Workshop
Transformational leadership strategies to accelerate team performance
- Leverage team dynamics to enhance performance
- Challenge, support and empower others
- Manage uncooperative staff members
Drive change and innovation as a female leader
- Recognise and overcome hurdles to change
- Trust your intuition and step outside your comfort zone
- Embed a positive change culture in an organisation
Build resilience to remain productive in a crisis
- Learn tools to help you thrive under pressure
- Support your team and engage others to deliver
- Debrief after crisis - Provide and accept feedback
Strategically plan your career progression
- Develop a personalised approach: short and long-term
- Understand challenges
- Share approaches to move your career forward
Amy Stewart Leadership & Organisational Development Specialist Amy Stewart Learning and Development
---
Value Plus
Ends January 24
SAVE UP TO$700
Super Saver
Ends February 28
SAVE UP TO$500
Early Bird
Ends March 22
SAVE UP TO$300
---
Hilton Sydney
488 George Street, Sydney, NSW, 2000, Australia
02 9266 2080
Thank you for joining us!
Great! Keep an eye out on our updates and newsletters.